South West Fletcher Boat Rally - About the Event and Previous Years
So what is the rally about?

A brief introduction by Robin Coomer (co-founder)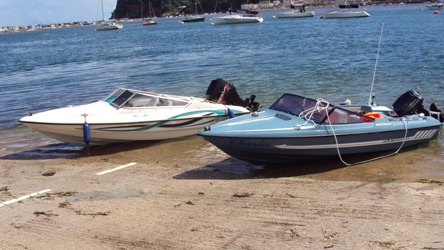 In essance it's an introduction to other like-minded Fletcher owners - an excuse for a social gathering plus getting out on the water of course! An enjoyable opportunity to see other Fletchers in action and share knowledge.
When I got my first Fletcher, I looked around for clubs and meets, but couldn't find any so, after a brief chat with John, we started our own!
The 2011 Event
The 2011 event was not only the first South West Fletcher Boat Rally, but the first such event either John or myself had attempted to organise. The location of Babbacombe Bay was selected for many reasons - proximity of multiple launch sites, sheltered and picturesque bay and because of shore facilities. It is usually a quiet location away from busy harbours which made risks much lower.

With around 25 Fletcher's in attandance - many all day and some other's just 'calling by', we were impressed by both attendance and the enthusiasm of all concerned. We also received apologies from around half-a-dozen others who had hoped to attend, but either couldn't or boats were not ready in time. Hopefully you guys will join us in 2012?

Getting everyone ashore with just John's dingy proved to be more time consuming than we envisaged and we plan to improve this aspect for future events.

The talk by Antony Birchell (with contributions from Andy at Fletcher) proved very popular and informative. I think we all gained a lot from this and heartfelt thanks to these guys for a great contribution. I hope they'll be able to repeat this for us at future events. Due to the bank holiday and location of the rally, the hoped for MOB demo by the RNLI was not possible, but they did send representation to advise on any safety aspects. Unfortunately due to the public location (and to some part a failure on our part to keep everyone together!) the group talk didn't happen, but over a couple of hours I think everyone had an opportunity to assess their own boat and personal safety and discuss one-to-one any concerns they had, so again many thanks to the RNLI for providing us with this opportunity.

The Wakeboard demonstrations by Ben were fanstastic and enjoyed by all - especially himself we suspect as he looked so 'in his element' out there!

The original plan was to use the renowned culinery prowess of the Cary Arms to provide an evening BBQ and a perfect location for a social gathering. Sadly high costs of BBQ combined with the unknowns of a first-time event made securing the number of bookings they required difficult and thus this aspect was cancelled a few days prior to the event in favour of a DIY BBQ in Elberry Cove near Brixham. This was attended by around a third of the boats and approximately 30 people. Andy awarded the 'Best Boat' prize kindly donated by Fletcher and Jobe Watersports to Hugh Gemmell's ArrowFlash Millenium. The assortment and standard of boats was very high and a credit to you all.

Sadly my own 1981 ArrowFlyte encountered engine problems leaving the Teign and I made the difficult decision to turn back and make the Rally as a landlubber! This unfortunately meant a later than planned arrival so sincere apologies to John and all present who did an admirable job of getting things underway. 'Charlie' is now fixed and looking forward to the 2012 Rally!

Massive thank you to everyone concerned for making the event a sucess and in particular those who travelled long distances to attend - we hope you'll all join us agin in 2012!

Robin Coomer
South West Fletcher Boat Rally

See some of the images of the 2011 event in the 2011 Gallery HERE
---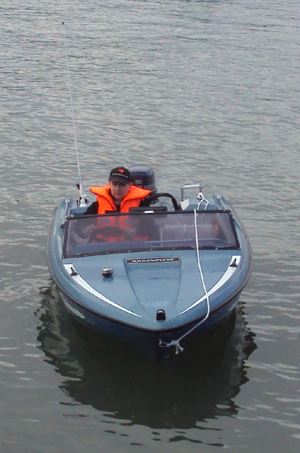 2011 Sunday
Although a few expressed an interest in a Sunday venture to the river Dart, only three boats turned up, a 19 Sports Cruiser, an Arrowstreak 16 GTO and an adventurous Arrowflyte 14. The bay was a little chopper first thing which may have put some people off and although the water around the headland was calmer than it can be, it still presented some interesting swells. But local knowledge being key, I suggested we persevered as with our recent weather, the swells often calm down about mile or so south west around the Berry Head headland, and to be fair the swells were manageable. So we set off on our 24 mile round trip to Dittisham north of Dartmouth on the river Dart.

We stayed together and kept to a sensible pace for about the first mile and as the swells started to disappear, speed was slightly increased and everyone started to really enjoy the water. A number of fast flybys by the 14 were equally matched by the 16 and great fun was had by all. The coastline around this section of Devon is particularly beautiful and unspoilt and we had a good opportunity to experience it from the best vantage point possible – the sea. I have to say I'm amazed at how well the 14's handle the sea when you consider their size. There are a few areas of caution along this section of coast but with sensible planning, local knowledge and maps, and of course an accurate depth gauge the journey was safe and fun. Not forgetting the very true term about safety in numbers.

We arrived at the mouth of the Dart in no time and started to head inland. The views of Dartmouth, Kingswear and the Dartmouth Navel College are suburb from the river especially in the glorious sunshine. The river was very busy and it seem most had thrown away the rule book when it came to navigation! The upper and lower ferry crossings were running as usual, water taxis darting about, sailing vessels large and small, along with a plethora of small tenders and rowing boats made for quite a spectacle and enhanced the enjoyment even more. We continued up the river with a reasonable view of Greenway, where Agatha Christie lived, and moored off on the visitor buoys in Dittisham to relax and have lunch. Dittisham's a lovely place to moor, easy and convenient with lots of interesting slights and pubs. It's quite easy to hail a water taxi to go ashore too.

So after a civilised lunch and many discussions over engines, hulls, polishing, speed and general boaty stuff, we decided to head back taking advantage of the failing tide to conserve fuel. There are fuel barges in Dartmouth but we felt comfortable with our planned allowances and so just continued back through the spectacle of Dartmouth and travelled back out to sea. Again, we decided to cruise sensibly on the journey back, but with the swells gone, the sea looking like millpond, the sun was casting a heavenly feel over the coastline, so everyone decided to break the beautiful tranquil silence with the sound of engines revving to their max and we raced, played and jumped pretty much all the way back the Brixham – all grinning like the cat that got the cream.

A fantastic day and the general consensus was a better day that Saturday. It does highlight that perhaps we have a specific event which involves a journey for next year. Just imagine a flotilla of thirty boats travelling along the coast to Start Bay?

John Shepherd
South West Fletcher Boat Rally
---
Future events?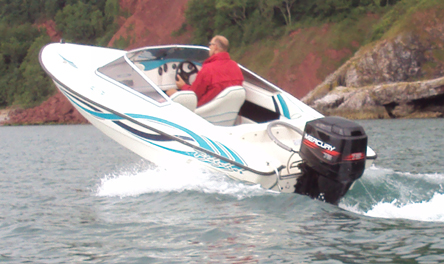 Well, we'd like to make this an annual event so please check back regularly for the next event! We remain open minded about if and when to hold the event in future years however and much will depend on how well each event is supported. Anything over a dozen boats and we'll likely keep doing it. In terms of when, Easter as we know varies and an early Easter reduces the probability of suitable weather quite significantly so Late April to Early June will likely remain the favourite time. We are unlikely to beat the fantastic weather of 2011, but we could equal it... Feedback from yourselves will largely steer the decision so please don't be afraid to shout up and be heard!!!
Getting involved
The more feedback we can get from you, the better this event will be. Unlike a boat show, The South West Fletcher Boat Rally is not intended as a sales platform, but as a forum for you to share knowledge and make friends. We invited selected 'sponsors' and have given them coverage in return because we feel they can offer something to you or otherwise contribute - not because they are paying an advertising fee. We are not taking any payment from any of our sponsors and are not looking to make any personal gain from this event. We wholeheartedly welcome any contributions in the form of time or suggestions and if anyone thinks they have an idea that would benefit the community, then please let us know so we can incorporate it. We will undoubtedly need some shore-side assistence during the events, so if you are temporarily without a boat and still want to participate, please send us an email. Any marine industry business who is interested in getting involved please call us. As the event grows we hope to offer improved facilities for those attending and would gladly accomodate any business we feel can contribute.